Our Curriculum
Valley Prep is authorized (accredited) to offer the International Baccalaureate (IB) Primary Years Program (PYP). IB World Schools share a common philosophy: a commitment to improving the teaching and learning of a diverse and inclusive community of students by delivering challenging, high-quality programs of international education that share a powerful vision. The PYP is a holistic, inquiry-based, cross-curricular approach to teaching and learning that promotes cultural sensitivity and international mindedness. The program uses six trans-disciplinary themes (see below) to organize traditional curricular content. For more details about the program, please visit the International Baccalaureate website.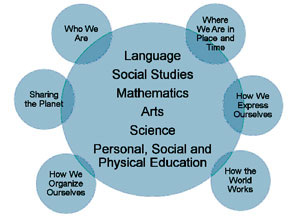 **Mission Statement from the IB
The International Baccalaureate aims to develop inquiring, knowledgeable, and caring young people who help to create a better and more peaceful world through intercultural understanding and respect. To this end, the organization works with schools, governments, and international organizations to develop challenging programs of international education and rigorous assessment. These programs encourage students across the world to become active, compassionate, and lifelong learners who understand that other people, with their differences, can also be right.